"This is very insensitive" – Cross chides Aisha Buhari for posting photos from daughter-in-law's graduation in UK amid ASUU strike
Reality TV star, Cross Okonkwo, has berated Nigeria's first lady, Aisha Buhari, over a social media post celebrating her daughter-in-law's graduation from a UK university.
Aisha Buhari had taken to her Instagram page to celebrate her daughter-in-law, who graduated with first class honours in Architectural Science from Coventry University, United Kingdom.
The first lady posted a photo of herself, her son, Yusuf, and his wife, Zahra, and captioned it, "Congratulations to Mrs Zahra B. Buhari on your graduation with First Class Honors in Architectural Science. Wishing you all the best."
Aisha's post, however, didn't sit well with a number of Nigerians who tagged it as insensitive.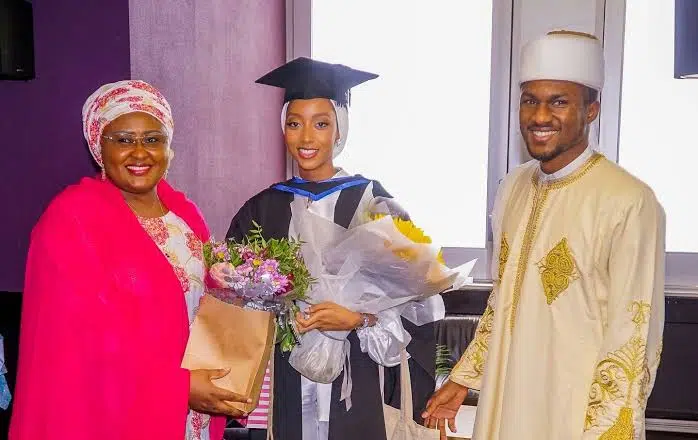 Former Big Brother Naija season 6 housemate, Cross, also took to his Twitter handle to lampoon the wife of the president for the post.
He emphasized that she's a mother to the citizens of Nigeria, and since public university students are currently out of school, celebrating her in-law's graduation would feel like she's rubbing it in the faces of Nigerian students affected by the prolonged strike.
"To me this is very insensitive ma. Your the mother of the nation and over 92% of ur children are not going to school atm and just because one of ur biological child finished from school. Which is kool and what not. But don't come online and rub it in on your other children face.

It's not kool and it's very sad to me. All the children in Nigeria ?? should be celebrated like the way you celebrate your daughter. I'm lucky cuz my mum did her best to send me to skool. What about those that don't have mothers. You are to be their mother .Mother of the nation?". He wrote.